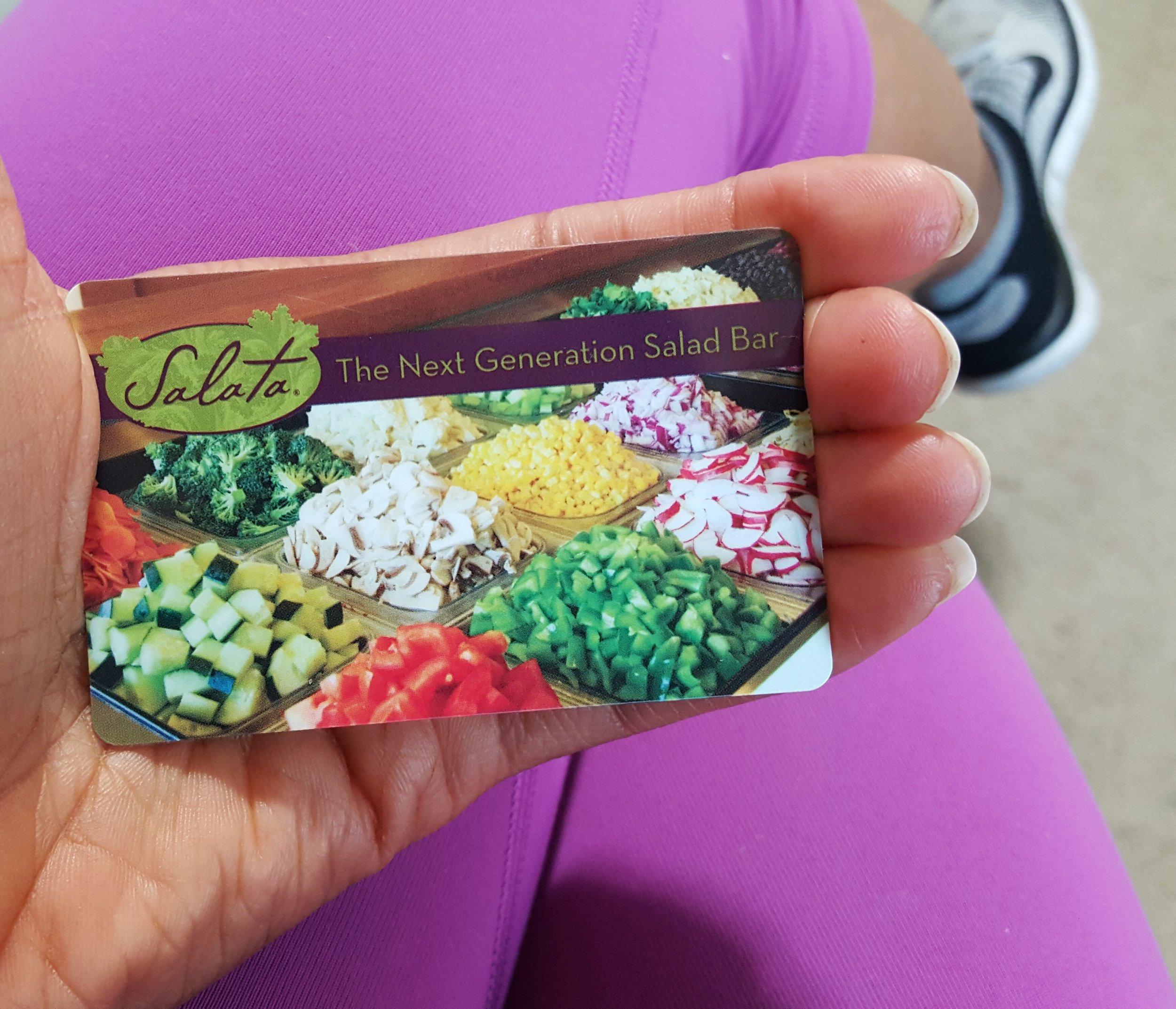 GIVEAWAY TIIIIME! with the long, sugary, indulgent, holiday road ahead of us this gift card will be your saving grace!  november and december are typically the months where we tend to eat really heavy meals.  halloween actually gets that snowball rolling and it just keeps on growing...if you let it!  thankfully, Salata is filled with healthy options to help keep you on track with your nutrition throughout the holiday season.  if you're looking for a healthy, super quick lunch break or dinner option, you are in luck and in the right place.
 i would love to gift one of my supporters with a 50.00 gift card!!! so that's just what i'm gonna do!  i'm hosting this giveaway via here and Instagram, so you can enter via both places by answering this question:
Q: how do you plan to stay on track with your nutrition during the holidays?! 
BROWNIE POINTS: if you tag two friends on Instagram, that will double your chances of winning, FYI!
we had dinner at Salata tonight and it was incredibly delicious, filling, and healthy, as always.
i got 5 zillion fresh toppings along with the seafood mix (salmon, crab, shrimp) for my protein. clearly Dego was gunning for that multi-grain roll!
 i also got some chipotle ranch & fat-free mango dressing on the side.
there are SO many toppings to choose from (i know!), but below are some lighter lunch and dinner combos you could stick to during the holiday season. see, i got chu.
Antioxidant Rich:
Spinach, Tomatoes, Red Onions, Pumpkin Seeds, Red Beans, Carrots, Cucumber,  Cabbage, Salmon.  Dressing: Fresh Herb Vinaigrette.
Post-Workout Fuel:
Salata Mix, Carrots, Pineapple, Red Onion, Dried Cranberries, Almonds, Grilled Chicken.  Dressing: Honey Mustard
Salads Men Love:
Romain, Red Onion, Bell Pepper, Corn, Black Beans, Cheddar Cheese, Avocado, Bacon, Cilantro, Spicy Chipotle Chicken.  Dressing: Chipotle Ranch
---
next thing on my agenda, the 5/10k TURKEY TROT is upon us!! i've been doing this race for like the last 5 years and i'm gonna keep the tradition going! join me if you're local or have a great run in your own city if you're participating!  i just registered and the price goes UP on November 21st, fit friends.  i'll see you out there that morning to make room in our tummies for Thanksgiving goodies!!!!
now, who wants this gift card!? a random winner will be selected on the morning of 11/23! good luck, fit friends and thank you in advance for entering :)