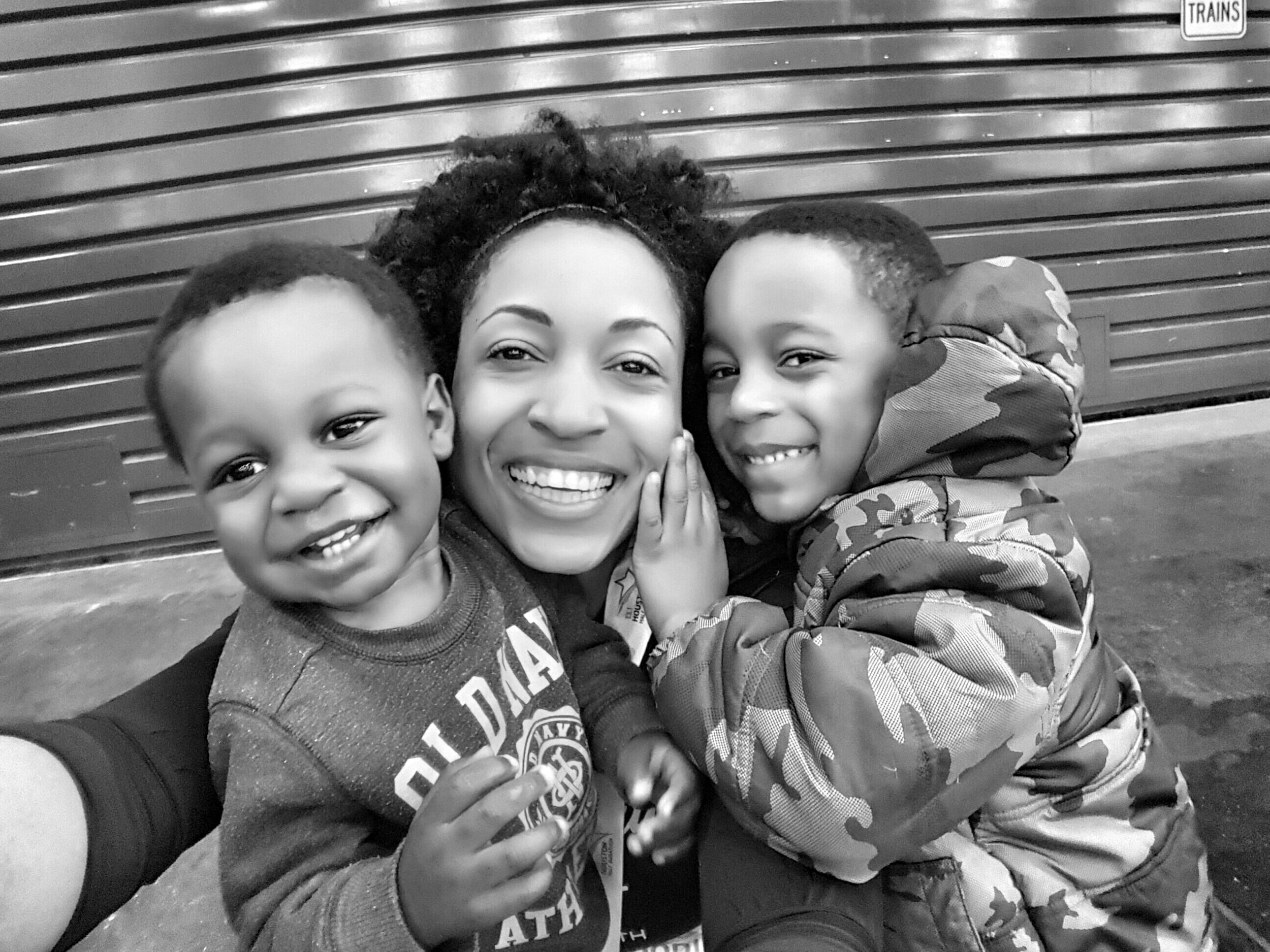 wooooooo! more than 27,000 runners from all 50 states and various countries participated this year. WHAT a turnout and what a blast i had! it took a record 41:00 min JUST for everyone to get across that start line. soooo many people. finishing my half marathon was my ultimate goal but seeing so many fit friends along the way was icing on the cake (that i'm eating later).
CONGRATS, RUNNERS!!!! WE DID IT!
friday afternoon, we headed to the GRB Convention Center for the Memorial Hermann IRONMAN Sports Medicine Institute EXPO.
i have made visiting this EXPO a friday tradition since 2009.
follow the feet, Dego!
we went straight to pick up my race packets,
i know, i look a lil' 'Hell Raiser-ish' (remember that movie? lol) but i will get back to this hair of mine in a moment. keep reading!
then we visited a couple of the vendor booths. Dego saw that basketball and it was all over. nobody else could shoot it but him. nobody.
this was Sonny's first time attending the EXPO with me! all the other years he was working at his engineering job. a lot has changed for us in this past year!
ready!!!! kinda sorta not really!!!!
i finally feel like i'm getting somewhere with this natural hair of mine. Bantu Knots for the win! there are plenty of YouTube tutorials on how to create these guys and i love how they turned out. going on day 3 and my curls are still poppin'. i was supposed to get braids for the weekend but we simply ran outta time for an 18+ hour job. my girl Ogechi was still able to hook me up cause that's what she does!
saturday morning, it was 5k time! i parked right in front of the Toyota Center and booked it to Discovery Green.
i squeezed right into a good lil' spot at the 7:00 min per mile mark this year! last year i was back by the 13 min mark.
peek-a-boo
done in 30 min and some change! i found some fit friends and started snapping victory pics. great job Ayesha! she did the half marathon the next day and we literally ran into each other during the race.
beautiful, buff, natural sisters, Ama & AJ! #HairGoals i was crushing HARD on Ama's pineapple top! AJ competed in her first bodybuilding competition a few weeks ago.
then i ran into my Soror, Arlene before and after the race!
i had to go teach my Lifetime class after running but i wanted to go check out the post-race food first. so i did...and the line was crazy long and i didn't have enough time to wait. so i walked out of Discovery Green and tried to go back the way i came (i.e., walking right into the flow of post-race people traffic) and a security guard immediately warned me that i could NOT do what i was about to attempt and that i'd pretty much have to walk all the way down towards Minute Maid park first and go around. i was like, "but i parked by Toyota Center and i need to get outta here, sir!". that's what i get for being greedy, LOL. out of nowhere though, this guy appeared and said "it's ok, i'll escort her since i need to go tell people to keep moving along anyway." WHEW. so off we went! i saw the back of his jacket and thought, angel indeed! he definitely saved my butt. i would not have made it to teach on time if it weren't for him.
after HIIT class, it was time to carb the heck UP!
oh yeah. Jason's Deli has always been a favorite of mine. i got the manager special: half turkey sammich w/ fruit & side salad bar. oh and some un-pictured self-serve vanilla fro-yo.
back home to get ready for the next day!
sunday morning, i got up and headed down town to the GRB.
this was around 6:30 as the runners were heading out to the start line a few blocks away. MAN IT WAS COLD out there! but the GRB was nice and toasty and i did not want to leave.
waiting and being random....
taking my traditional starting line selfie and talking myself through this!
why he so salty back there though? bwhahaha
i wore my Fearfully & Wonderfully MADE shirt by Active Faith Sports. a few spectators saw it along the route and shouted "Amen!"
the race officially started at 7am, but i finally made it to the start line around 7:21.
but not before running into one of my 5:30am crew Lifetime class members!!
and we're off! about 2 miles into the race a heard a bunch of commotion. naturally, i turned around and proceeded to have a good laugh.
look, it's a Wookiee!!! Chewbacca had no idea how much he lifted my spirits! i ran with him for a while and EVERYBODY he passed shouted his name. everybody!! hilarious.
i so wish i could have taken a pic of all the ridiculously funny signs i read!!!!!! here are a few that made me bust out laughing:
*at the 5k mark* "You're almost to the finish line! Wait, my mistake. " -Steve Harvey
"Remember when this sounded like a good idea?"
"You feel like crap, but you look good."
"You run better than the Government."
"Could you hurry? We're freezing."
"Worst Parade Ever."
"I love your endurance. Call me 713-229-3390"
"Pain is temporary, but Facebook posts are forever."
"You trained for this longer than Kim Kardashian was married."
aaaagh, there were SO MANY. a sign contest needs to be apart of this event, seriously.
was having a little hip soreness at the halfway mark but i kept going. i even had to pee before we started but i kept putting off using the port-a-potty and never did! passing mile 12 and entering downtown made me one happy girl. time to book it.
mama is on her way, boys!! Sonny told me Chiso turned around and said "Papa, this is not very fun." waiting does suck sometimes, Chi!
[video width="1920" height="1080" mp4="http://fitfoodiele.com/wp-content/uploads/2016/01/chevron-2016.mp4"][/video]
we DID that!!!
2:25:04! #SkeeWee
couldn't wait to hug my boys and find more fit friends. HEB was handing out ice cream sandwiches and i couldn't wait to kill mine! then... Chiso happened :)
great minds think alike :) Lifetime Fitness instructor and trainer, Milton, finished strong today! his wife, Jessica, is preggo with their first child! congrats to them and their expanding family.
ran into my girl Pam....again! she run yearly as well; always fun chatting it up with her!
soooooo proud of Nike. she said FORGET a 5k, i'm taking on a half marathon for my first race.....ever!!! she wanted to cross it off her bucket list...... and she did.
in 2 hours and 30 minutes at that!
i ran into my girl and supporter, Angel! she got to meet Chi and Deg in person, lol.
afterwards i sat down to stretch and wait for Papa to go get the car so we could go EAT! all i wanted was a burger from Jerry Built! they wished me luck on Instagram so they had been fresh in my mind ever since. thanks again, guys! that burger did not disappoint!
never does. #LookAtIt #GoneIn60Seconds
thanks for reading! i put off my post-race nap to blog so GOOD NIGHT!!! :)
Q: do you have a favorite race or event you participate in annually?