first of all,
this post has been in my drafts since the first day of school (August 15th), SHEESH.
why can't i just sit down and blog every day?
the nerve of these children to get hungry and/or need me every 3 minutes.
lucky for them i love my job. and i love to cook. and pack lunches. and eventually blog about it ;)
happy back to school season, fit friends!
i now have the honor and pleasure of packing not one,
but two lunches this year, woo. hoo.
Kosi crashed both their photoshoots and just wanted a backpack so Sonny loaned her his, lol.
Dego's turn has arrived and he's finally got his very own coveted backpack. he would always wear Chiso's when he wasn't around and pretend like he was going to school! when he hopped into the backseat after his first official day, i didn't even have to ask him how it went. he started chatting about his day's activities immediately! he then followed it all up with, "mommy, i don't want to go to school every day." lol. i'm guessing he thought it was a one day & done kinda deal, ha.
already missing summer but i'm excited about making healthy school lunches for my babies and i do hope you'll love these recipes and ideas too i have coming too!
involving your kiddos in the process is a really good idea; i put mine to work and have them shake the breadcrumb mixture and the chicken chunks together. just make sure the lid is on eeeextra tight. they love it, we share a good laugh, and they get a good arm workout while they're at it!
Kosi loves these nuggets so much she barely even let me get through this photoshoot.
they are that good, we promise ;)
no really, Kosi, come on. let me work.
here's that updated recipe just for you!
Yield: approx. 40 bite-sized nuggets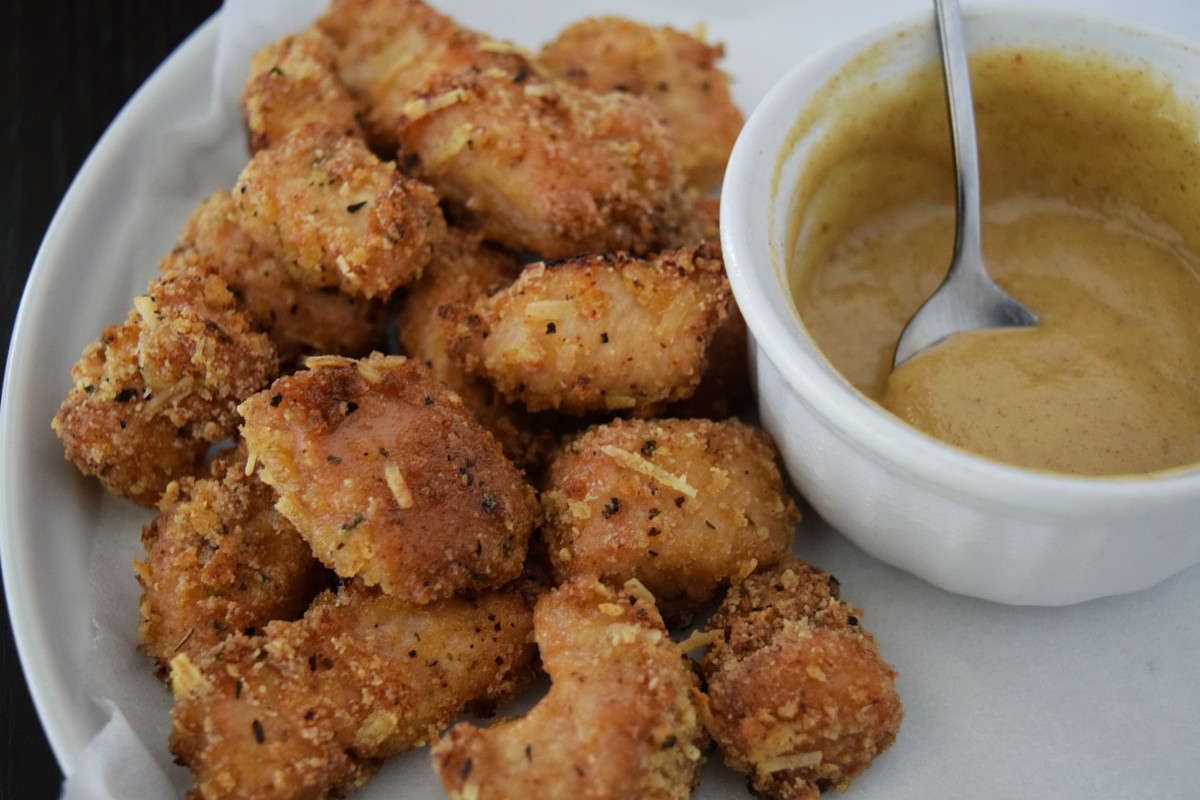 healthy homemade crispy baked chicken nuggets
prep time: 10 mins
cook time: 15 mins
total time: 25 mins
easy, baked, kid-friendly main dish!
instructions:
preheat your oven to 425 and coat a large baking pan with no-stick cooking spray.
to a mixing bowl, add the cubed chicken, olive oil, and liquid aminos. sprinkle with salt and pepper and combine well
to another large bowl with a lid, add almond flour, panko, breadcrumbs, and parmesan cheese
add a few chicken chunks to the breadcrumb mixture, place the lid on, and shake! let your kids join in on the fun! once completely coated, add chunks to your baking sheet. if you can fit more on your baking sheet, do this process once more
lightly coat the chicken chunks with more no-stick cooking spray and bake for 9-10 minutes. flip and bake for 4-5 more minutes or until cooked through
whip out the dipping sauces and enjoy!
NOTES:
1 serving = 5 nuggets
honey mustard is prolly my fave dipping sauce; i used course ground mustard + truvia nectar
let's just say Dego has been asking for this combo every single day since the first day of school, no kidding.
he still loves his mac n cheese and y'all know exactly which parent he got that from :)
more school lunch recipes in the queue!
Q: what do your kids like to eat in their lunch?