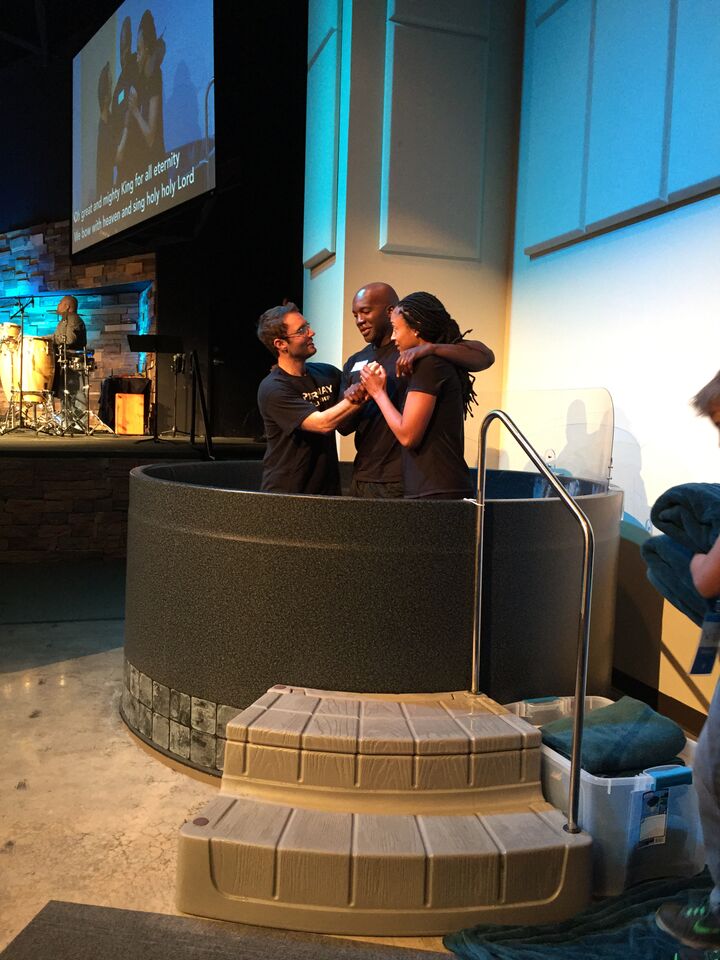 today was the day!
yall, i attempted to do a Periscope vid on the way to church this morning and i thought i had succeeded.  a friend text me about 2 hours later (i couldn't watch the replay right then cause we had arrived at church by that time) that the vid 'cut off or something'. on the way to lunch after church i finally watched the replay in the car and she was so right (thanks, Adaeze)!! after 5 seconds of my big face cheesing in the camera, the vid randomly cuts off. just like that. UUUUGGGGGGGH! my scope was like 4 minutes long, womp womp. AND i spelled baptized wrong in my title, LOL. soooo i deleted it. ah well!
Sonny and i had always spoken about getting baptized as adults here and there over the 15 years we've known each other but we never quite worked up the nerve to act on it.  until today. last month while talking during service, we agreed to finally take the plunge...together, this time.
some of our family attended and captured these moments on camera for us. we are utterly grateful for their support.
[video width="1920" height="1080" mp4="http://fitfoodiele.com/wp-content/uploads/2015/11/My-Movie-17.mp4"][/video]
God is in everything we do.  he fuels our passions, our careers, our relationships...everything.  so we must never be ashamed to give Him the glory.  i try to keep my IG posts food/fitness/family related so i honestly wondered just how this post would be received. however.... He is the foundation for those things in my life! and ultimately, it's simply not for me to worry how people receive it. it's not about Likes. it's not about popularity.  it's about being obedient because our purpose is SO MUCH BIGGER THAN US!
our sweet friend Mel greeted us in the hallway afterwards with the biggest hug! we love you, lady.
this girl... the sister i never had. seriously. thanks for coming, O.
brother and sister :)
 our support system.
and how cool is our pastor, lol!? thanks for the pics, Pastor Mike!
Matthew 5:16
let your light shine!